This usually occurs when you use the same profile in 2 different workspaces. Or when you try to add/remove projects from the server using the "Add and Remove Projects" window.

<![if !vml]>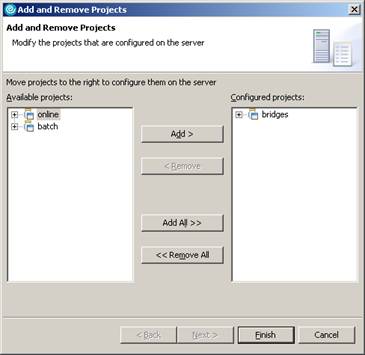 <![endif]>
The symptom of this problem is that even though you have DETACHED the project from server, it still tries to start the project (and possibly gives error). In the example here, the server will try to start project "online" even though it is not attached to the server anymore.

The serverindex.xml that exists in the profile keeps track of projects that are added to the server. Sometimes, RAD does not update the serverindex.xml file correctly during the Add/Remove operation.
Workaround

Stop the server.
<![if !supportLineBreakNewLine]>
<![endif]>
Open the profiles directory from the windows explorer. In this case, it is under
C:\Program Files\IBM\Rational\SDP\6.0\runtimes\base_v6\profiles
<![if !vml]>

<![endif]>
Open the profile that was attached to the server we were just trying to start. Follow the path
<profileName>/config/cells/<cellName>/nodes/<nodeName>
The cellName and nodeName usually contain your machine name.
Open the serverIndex.xml residing in this folder.
<![if !vml]>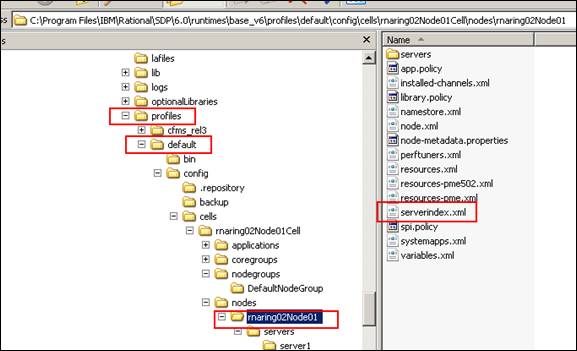 <![endif]>

The list of projects attached to the server can be found here.
Remove the deployedApplications entry for the unwanted project. Save & close the serverindex.xml.
<![if !vml]>

<![endif]>
Open the applications directory under the <profileName>/config/cells/<cellName> directory.
If you find a .ear folder for the unwanted project here, delete the folder. In this case, we will delete the online.ear folder.
<![if !vml]>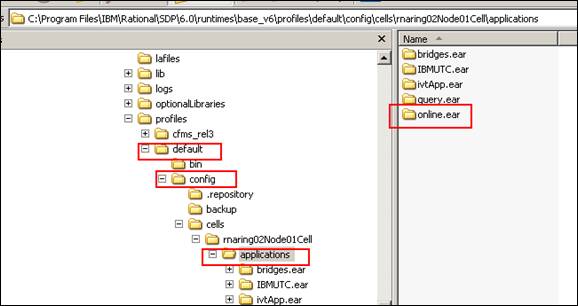 <![endif]>
Start the server again. The server should now start only the attached projects.
*******************************************************************************
Another way to get around this would be to UNINSTALL the conflicting app from admin console. This works only if your server starts and you are able to view the admin console. If your server refuses to start in normal mode, you can try starting the server in DEBUG mode.
You can then uninstall the unwanted app from Application -->Enterprise Applications option.
<![if !vml]>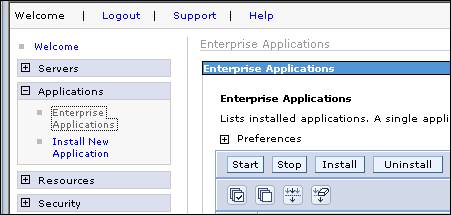 <![endif]>