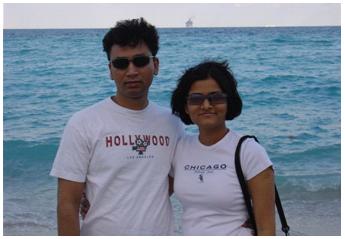 Surprise!
www.rohitn.com
was a (surprise) gift from my wife, Sam, on my birthday.
Sam bought the domain name www.rohitn.com a couple of days before my birthday & added a Happy Birthday page to it as a home page. When she revealed the surprise to me, I was stunned & delighted at the same time. A domain name, at last! I am ever thankful to Sam, for giving me this wonderful surprise.
To say a little about the lady that made it happen, Sam is an energetic, health conscious self.
"One should eat 5 different kinds of fruits and vegetables each day", an advice she never forgets to give me 5 different times every day.

She has a systematic way of doing everything she undertakes - be it cooking or creating a business requirement document. She is also a thorough and a persistent learner - one of those who never like to sit idle (unless they are asleep!). Her varied interests include fitness, enterpreneuership, stock markets, martial arts, dancing, knitting, to name a few.

She is also a prolific, enthusiastic & an exemplarary cook. Her creativity with making something palatable & yummy out of left-overs never fails to dazzle me. Though I am the "victim" of all of her culinary experiments [ the only (lab) rat in the kitchen, as I call myself ], her dishes are tempting enough to drive me down the vice of gluttony. I have managed to resist the temptation so far, though, with great effort.
Sam is also an editor and proof reader of this site. She painstakingly goes over each and every word/sentence to ensure that there are no grammatical errors or misrepresentations. Her thoroughness in this matter, is quite impressive.
As with any other, this is an evolving site. We intend (and hope) to add new stuff to it, every often. Couple of sections are meant to be updated every week (and we expect to live up to it!). Hope you find something interesting enough to keep you visiting now & then.
Do feel free to share your comments/suggestions in making this website better. We appreciate your sparing the time for the same. And here's the page that lets you do that, without much ado. Post your comment
Happy Surfing!